7 Mins Read
A well-executed PPC campaign can generate incredible results for your business. You can boost your website traffic, get more enquiries, and even increase the number of visitors you get to your store or dealership.
New to Google ads? A few pay-per-click campaigns under your belt? Either way, these six tips are designed to set your PPC campaigns on fire.
1. Update your email lists regularly
3. Personalise the subject line and content
5. Automate emails and reconnect with lost leads
6. Send an email newsletter at least once a month
1. Keyword targeting
Think like one of your customers! What words or phrases might they search for to find your business on Google? These are the keywords and phrases you need to target. PPC-heads like us call that 'keyword targeting'.
Try to make your keywords as specific as possible, using exactly matching keywords, instead of broadly matching ones. This will help ensure the right customers searching in your location see your ad at the right time.
For example, if your car dealership sells new Honda cars in Milton Keynes, you want your PPC adverts to be seen by potential customers searching specifically for new Honda cars in Milton Keynes. So you should target keywords such as:
'new honda cars milton keynes' or 'new honda milton keynes'.
Using broad match keywords means you'll pay more per click because Google will show your advert to a lot of searchers who won't find it relevant and, therefore, won't click on it.

2. Negative keyword list
Once you've put together your list of targeted keywords, you can use negative keywords to prevent your ad from being shown to an audience that isn't interested.
By adding a minus sign in front of a keyword, you make it a negative keyword. This means your ads won't show to a user if the keyword is used in their search.
For example, if your car dealership only sells new Honda cars in Milton Keynes, you won't want your ads to be shown to users who are searching for used cars. So, simply add a minus sign in front of any used car keywords like this:
'-used cars' or '-secondhand cars'.
Remember, every click-through on your ad costs you money. It's not called pay-per-click for nothing! So you only want genuinely interested potential customers to click through.
3. Take advantage of extensions
Once you've sorted your keywords and negative keywords, there are some additional features you can use to make your PPC ad campaigns even more effective. These are called extensions.
Ad extensions give you more space on the search results page. They also give customers more information about your business and more reason to click on your ad.
There's no extra cost for adding extensions to your campaign, so there's every reason to take advantage of this additional advertising space!
There's no extra cost for adding extensions to your campaign, so there's every reason to take advantage of this additional advertising on all your campaigns.
Here are a few examples of pay per click ad extensions:
Sitelink extensions
Sitelink extensions are additional links that appear underneath the text of your Google ads. They direct users to specific pages on your website.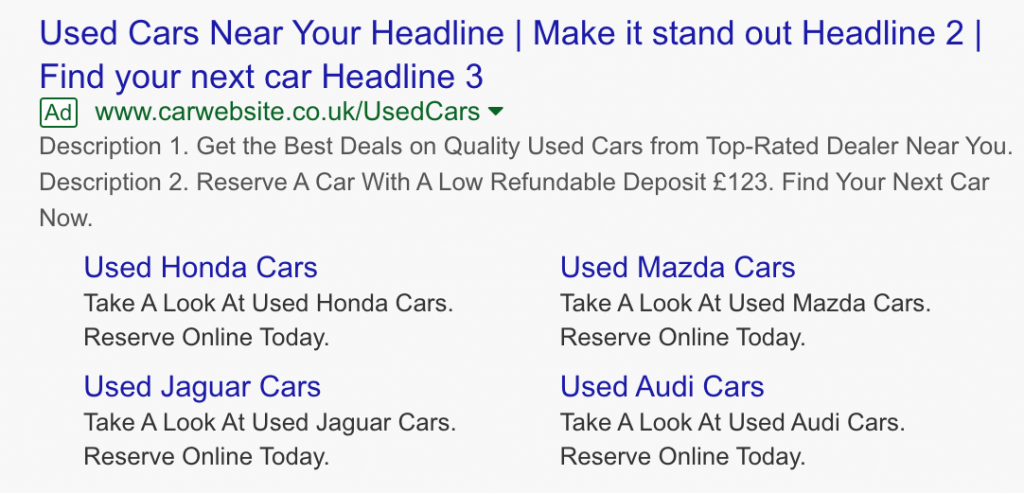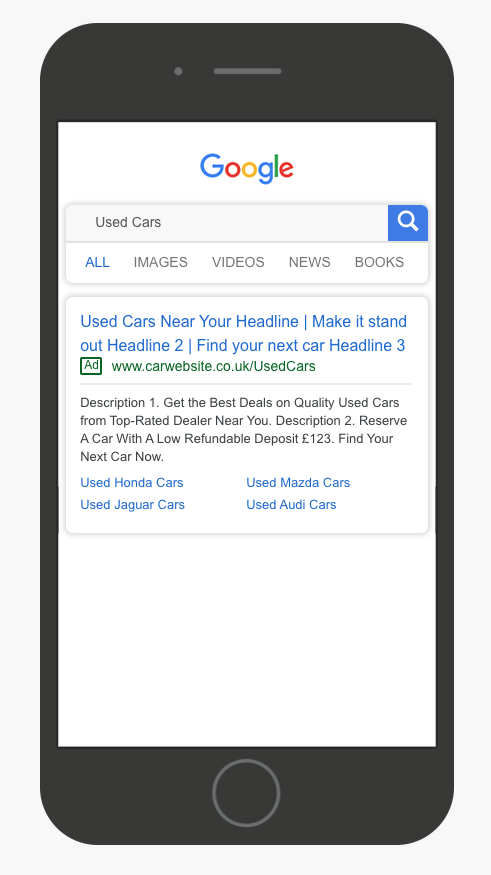 Location extensions
Location extensions show your business address and phone number, as well as a map marking next to your ad text. They help users find your business and make them more likely to visit your nearest dealership.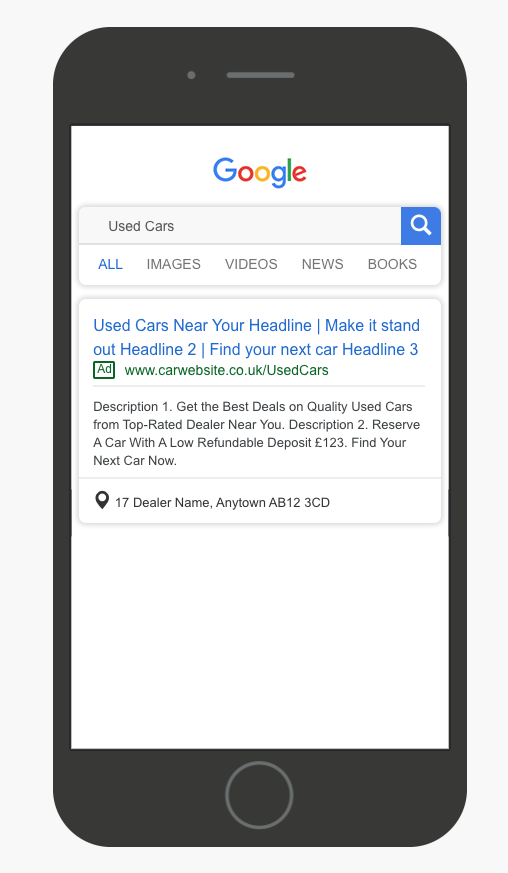 Call extensions
Call extensions show your business' phone numbers, allowing mobile users to call your dealership directly from the ad. Making it as easy as possible for potential customers to call you will help generate more enquiries. It will also improve the customer experience right from the start.
You can also specify the days and times that call extensions will appear in line with your opening hours.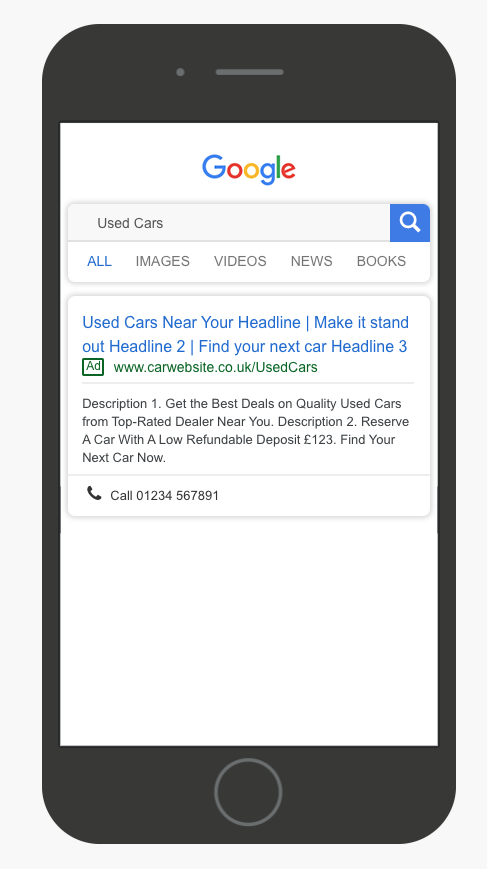 4. Ad groups
So you've set up your first ad campaign and it's going great. Now it's time to set up another one!
This is where ad groups come in.
Organising your account into different ad groups makes it easier to show the right ads to your customers. You can also track the results of your advertisements more effectively.
For example, when you set up the ad for your car dealership selling new Honda cars in Milton Keynes, you targeted customers searching for new cars. You wouldn't want to waste all that hard work of defining who your customers are and what they'll be searching for. So create an ad group for 'new cars' or 'sales'. Then, when you set up your second ad for a new Honda offer, you can use the same targeting as your first ad.

In another ad campaign, you might be targeting slightly different customers. It might be an ad for 'aftersales', targeting customers who are looking to book their next MOT, for example. In this case, you would create a separate ad group for your aftersales adverts, using different parameters.
Ad groups allow you to have all your ads set up with keywords and extensions targeting customers looking for New Honda Cars within the 'sales' ad group, and all your aftersales adverts within the 'aftersales' ad group.

Organising your account this way can save you a lot of time and work as you build your online ad campaigns. It also helps you get the best results every time.
5. Landing page optimisation
There's more to an effective Google ad campaign than just creating the ad. When your potential customer clicks on your ad, they expect to go to a landing page that gives them everything your ad promised. This probably won't be your homepage, but a dedicated landing page. Your landing page needs to be:
Relevant
The page you send your customers to from your ad campaign should always be relevant to what they're looking for. If a customer lands on your web page and it doesn't seem relevant to them, they will immediately leave and go to your competitor's website instead. And that's a wasted click.

Your landing page should use some of the main keywords you used when setting up your ad campaign, as well as call-to-actions to help direct your customers to make a purchase or an enquiry.
Well designed
If a customer reaches your landing page and it's designed poorly or isn't easy to navigate, again they will leave and go to your competitor.
Fast
Even if you have the most relevant and beautifully designed landing page, if it takes too long to load, all those potential customers you spent so much effort to attract will go elsewhere.


Tools such as Crazy Egg or Hotjar let you test how effective your landing page is. They both provide heat maps and scroll maps, showing a visual representation of user behaviour on your website. You'll be able to see all the activity on your landing pages, such as the areas users have clicked, where the most interaction is, and any drop-off points where users stop scrolling. This will allow you to see what's working on your landing pages and where improvements can be made.


6. Never stop improving
There are always improvements that can be made to your Google PPC ads to get the best out of your campaigns. Monitoring the results of every one of your ads, looking at what went right, what went wrong, and what you could have done better, means your next ad will be even more successful.
And if it all sounds like too much effort, then call in the professionals. At Kee, we've been using Google ads successfully for over 15 years. If you want to ensure you get the best possible results from your PPC ads, get in touch. We would love to have an informal chat about what you want to achieve and how we can make it happen.
Send successful email campaigns with our expert help. We're happy to answer any questions you have about email marketing. Fill out the form below and we'll get right back to you.